Australia has released a national report that reveals the current picture of foreign investment in the country's agricultural field. Surprisingly, as one of Australia's most strategic trade partners, China's performance is NOT as strong as expected!

Coming after UK, USA, Netherlands and Singapore, China's stake in Australian farmland is comparatively tiny!

The Treasurer believes that some kind of Chinese investment in Australia may NOT conform to the grounds of the national interest…do you agree or disagree?

Feel free to have YOUR SAY at the end of the article.
---
Business Insider Australia has reported that The British still own Australia when it comes to agricultural land, according to a national survey of foreign-owned farmland!
The Register of Foreign Ownership of Agricultural Land was prepared by the Turnbull government in response to growing concerns about Chinese investment in Australia's agriculture sector.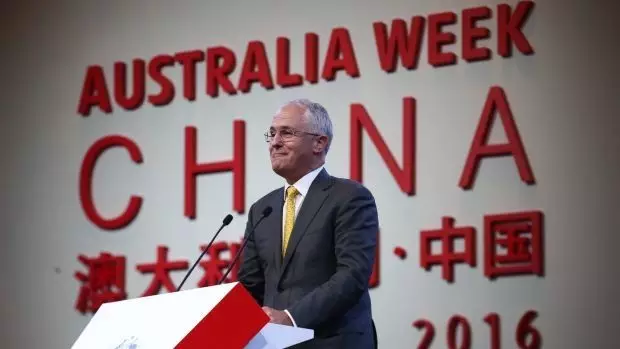 In April, treasurer Scott Morrison blocked the sale of Australia's largeset cattle business, S. Kidman and Co., which covers 100,000 square kilometres of the Australian outback to a Chinese majority-controlled consortium on national interest grounds for a second time.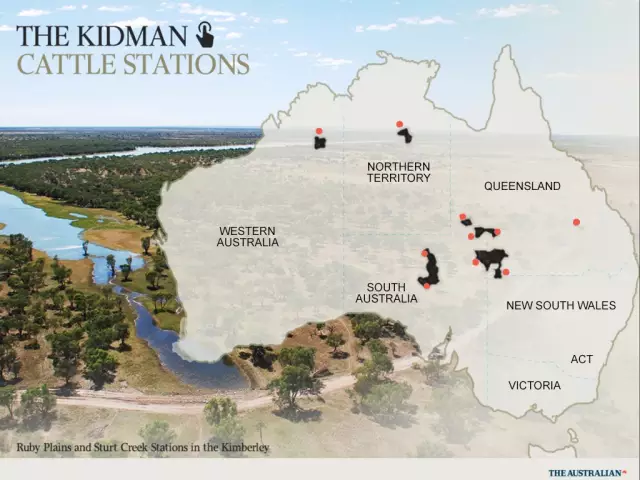 (Source: The Australian)
But the figures appear to be very much a preliminary snapshot, compiled by the Australian Tax Office ahead of new laws that came into place on July 1, forcing companies to disclose foreign ownership amid an increasingly rancorous debate about undisclosed or hidden Chinese investment in property and agriculture in Australia. A better picture of who owns what in Australia may not emerge for another 12 months in the wake of the tougher disclosure laws, and may lead to a substantial jump in foreign holdings.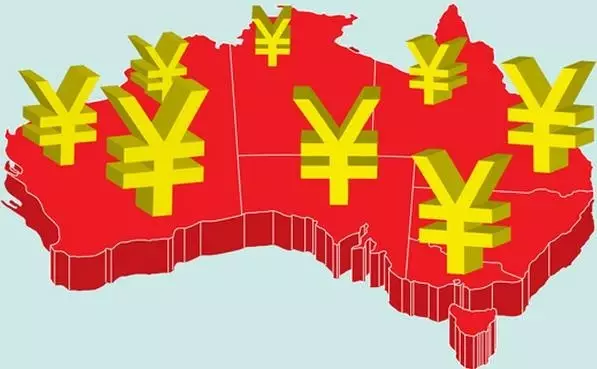 But the ATO will not disclose who owns the land to accompany the findings, identifying the owners by nationality only. Under the rules developed by the government and Morrison, the Register "must not release information which could identify, or reasonably be used to identify an individual or entity".
The report concludes that land more than twice the size of Victoria is foreign-owned and that figure has grown by 2.5 million hectares in the last three years!
At the end of Financial Year 2016, 52.1 million hectares (521,000 km2) of Australian farmland was owned by foreign interests according to the Register. Of that figure, less than 20% is freehold (9.4m ha), with 43.4m ha held as leasehold. Foreign ownership is MOST prevelant in Queensland, followed by Northern Territory, Western Australia, South Australia, New South Wales/ACT, Victoria and Tasmania, which is showed as following: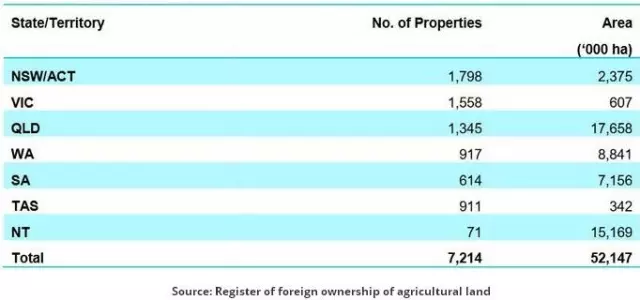 The predominant investment in all states (bar Victoria) is in livestock, although cropping plays a strong role in NSW at around a quarter of the state's total, as this chart shows: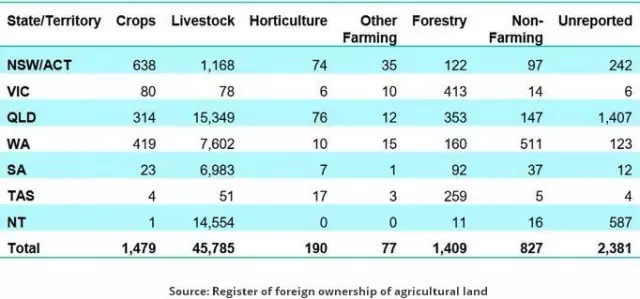 Surprisingly, here are the TOP TEN source countries for foreign investment in Australian agricultural land at June 30, 2016:

China is fifth on the table, just ahead of the Philippines, with 1.5m ha, just 2.8% of the total of foreign owned land. To put that in perspective, Chinese interests have less than 15% of the size of the S. Kidman and Co land-holdings.
Foreign investment further south tends to be smaller but of higher value, such as the 19,000ha Tasmanian dairy business Van Diemen's Land Company (VDL), which was bought last year by a consortium that included two Chinese companies with a 70% stake. The remaining 30% is owned by a company owned by the Melbourne-based Lemp­riere family, who also have a 20% stake in the 96,000 ha Chinese-owned cotton farm, Cubbie Station, in south-west Queensland.
In August, Treasurer Scott Morrison rejected a Chinese bid to lease NSW power network Ausgrid on national security grounds, which was his SECOND major rebuff to Chinese investors after the S Kidman knock back.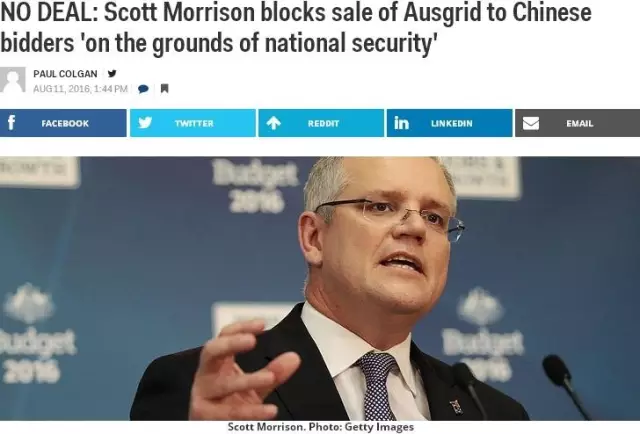 (Source: Business Insider Australia)
On the Registry report release day , Morrison said that with more than $3 trillion in foreign investment in Australia, "we cannot afford to risk our economic future by engaging in protectionism"."Foreign investment is integral to Australia's economy. It contributes to growth, productivity and creates jobs, but the community must have confidence that this investment is in the national interest," he said.
Will Chinese investment in Australia risk the country's economic future? Hear what the industry experts, celebrities and authorities have to say:
Hon. Andrew Stoner   Former Deputy Premier of NSW, ACECSenior Advisor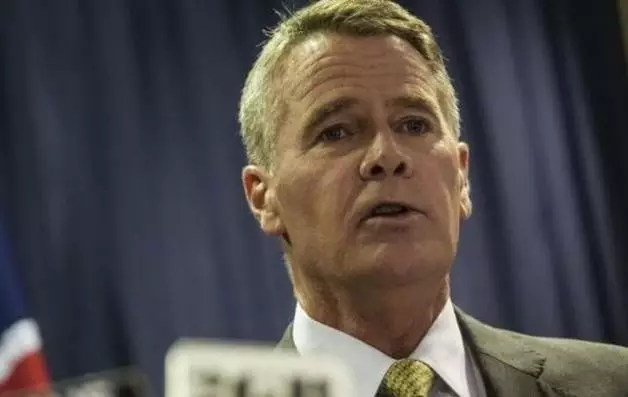 (Source: ABC iMedia WeChat Account)
Is the Australian Government's refusal to allow the sale of Australia's largest cattle property portfolio anti-Chinese investment? Analyzing the reasons and some other recent foreign investment refusals suggests not. Firstly, the Kidman properties are enormous-2.6% of Australia's farmland, and some of it is adjacent to top secret defence lands. US investors were recently denied in their bid to buy Australia's largest grain company Graincorp for similar reasons regarding strategic food security issues. Sale of large volumes of farm products to foreign interests will always be much less problematic than sale of large areas of farmland, which represents the ongoing capacity to produce food.
Dr. Caroline Hong   Australia-China Relations Specialist, ACEC Senior Advisor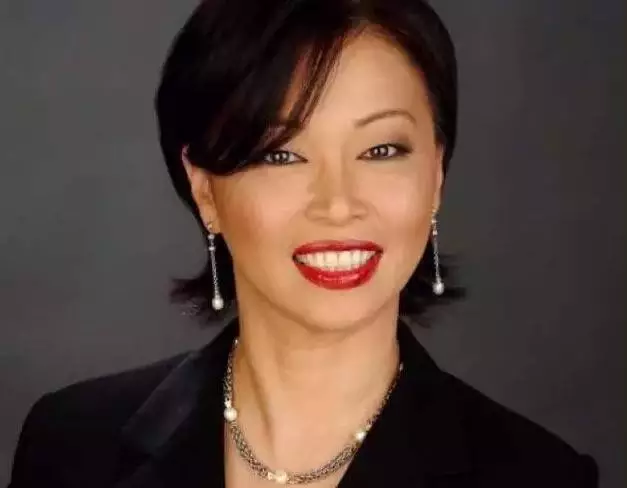 (Source: ABC iMedia WeChat Account)
The Kidman cattle properties have a significant history in Australia. Our Australian government has been promoting investment into our agriculture sectors to South Korea, Japan and China because many Australian farmers struggle to attract investment from Australian investors itself. They need investment money into their farms to sustain and to expand their business as well as to stay competitive in the domestic and export markets.

Of course, we expect that this sort of deal as large as the Kidman properties, be looked at carefully by any government and that is what has happened. It is not the end of the world. It means there are other options, such as the division of the properties or to look for a joint venture with an Australian partner  for the ownership of such a large property. That could be a reasonable solution.

This sort of farm properties have taken over decades to put together, and covering almost 2 per cent of the continent, including 16 properties across three states, a stud farm and 185,000 grass-fed cattle.

Joint partnership with an Australian partner could bring benefits to both Australian and Chinese people for jobs, trade, culture, learning, research and development. The challenge remains on finding the Australian partner or partners for the joint venture with the Chinese investor.

Australia welcomes investments from overseas in our agriculture sector snd services sectors.

We need to support Australian farm owners with succession and exit strategies to remain sustainable as we want them to be be competitive globally in a sustainable fashion, and that strategy includes, supporting the farm owners to attract investment from overseas into their agri-business in the best way for both Australia and for foreign investors.

Our smart country won't stay smart forever if we do not stay competitive through investments in the Australian businesses. We do not have to sell 100% of our ownership but we can cooperate as joint partners in this big Kidman deal.
Mr. Alfred Zhong   Agri-business Specialist,   ACEC International Ambassador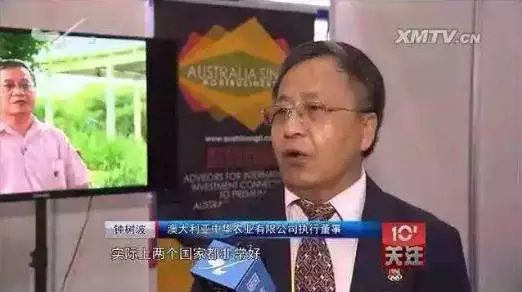 (Source: ABC iMedia WeChat Account)
Kidman Farm is iconic and has enormous value to the new investor/owners. But in our own thinking of ACEC agribusiness core team, we can do better than the perceived $380m price tag, by applying our selective aggregation of cattle farms to reduce impact of draught affecting different areas, and by introducing a few of Australia's too cattle breeds, and selectively applying AI and ET to accelerate the size of the cattle herds to meet large market demands. I think if the current owners really want to sell, they can work closely with Ernst & Young and the couple of short-listed Chinese SOE's to negotiate with the treasurer to work out a politically acceptable solution. The reality is Australia needs foreign investment, and to date the Chinese investors (though SOE's) have been known to law-abiding, and additionally they have always standby their policy of engaging local Aussie farming expertise, which is a win-win!
Mr. Richard Yuan   ACEC Chairman, International Ambassador of SME Association Australia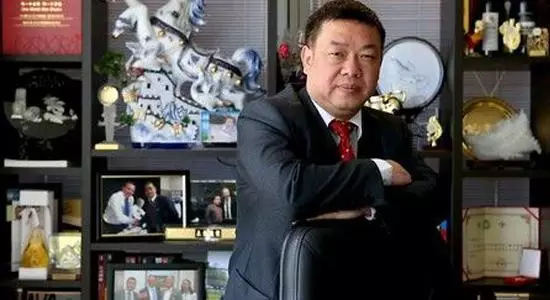 (Source: ABC iMedia WeChat Account)
I feel disappointed at the refusal of the Kidman Farm to Chinese investors. However, as long as the decision is made based on the principle of transparency, consistency and fairness, such decision should be respected. On the other hand, Chinese investors should do enough homework before their next bid to ensure a satisfactory outcome for all. Our platform ACEC may be able to assist.
Phild, who worked on land ownership and use for 30 years and also worked in China to establish land useage rights commented about the article as the following: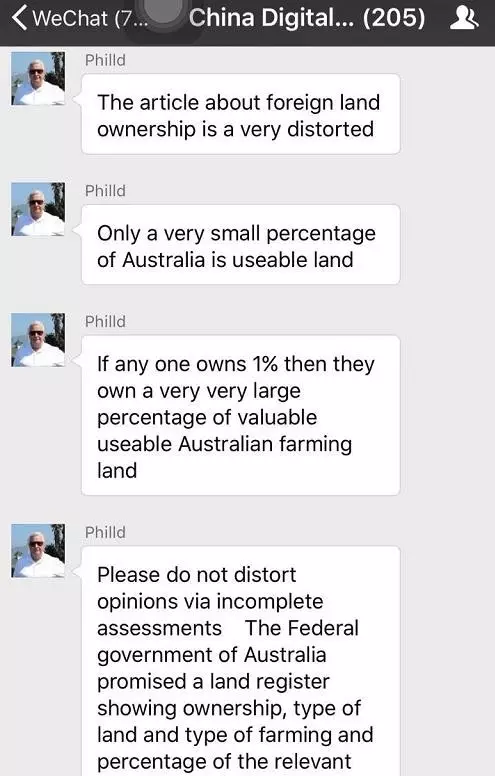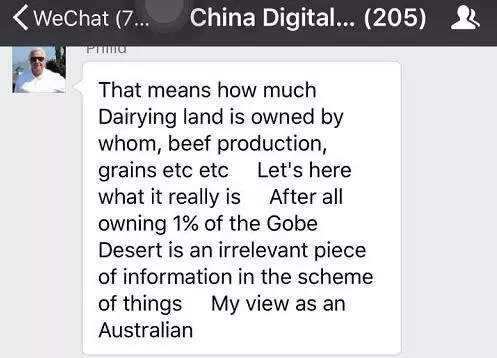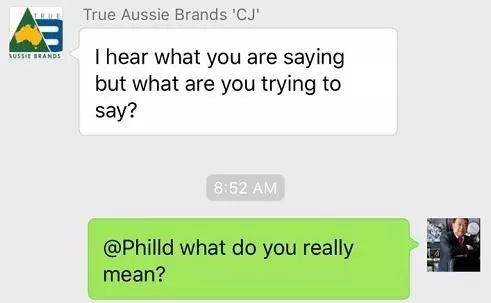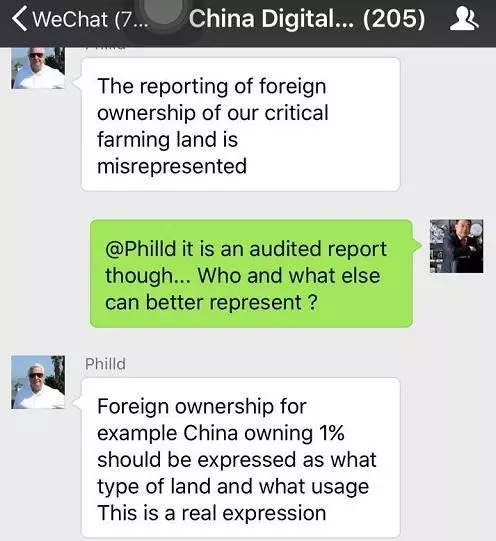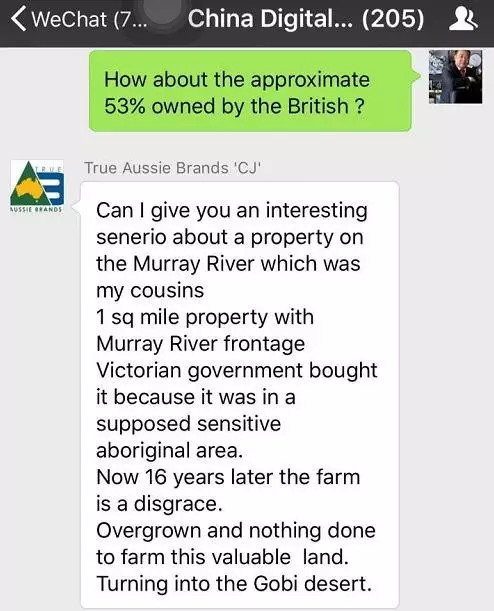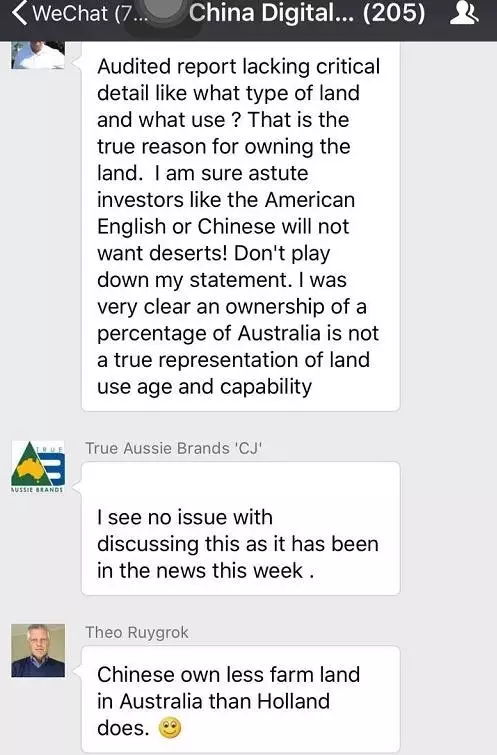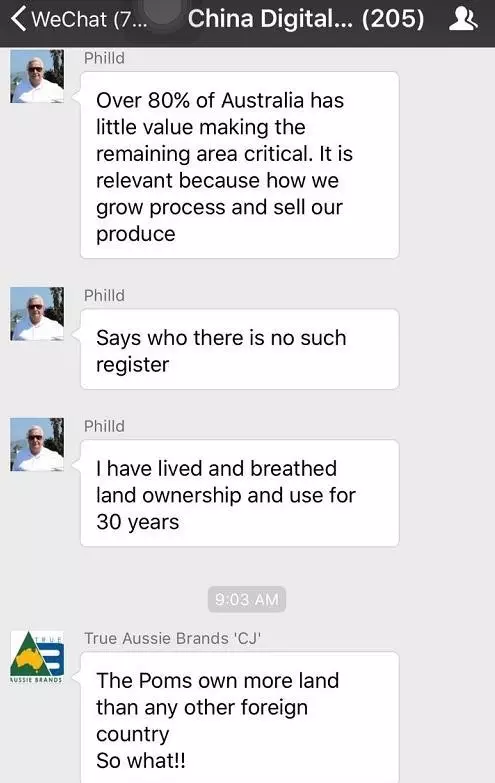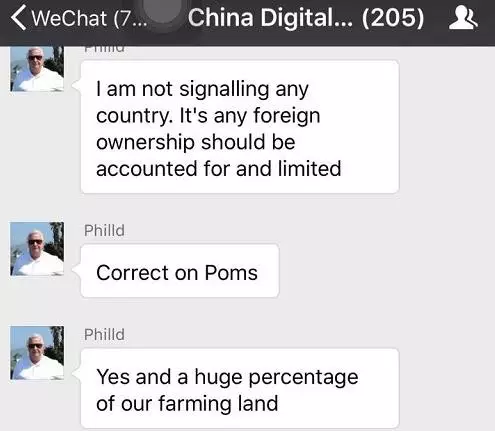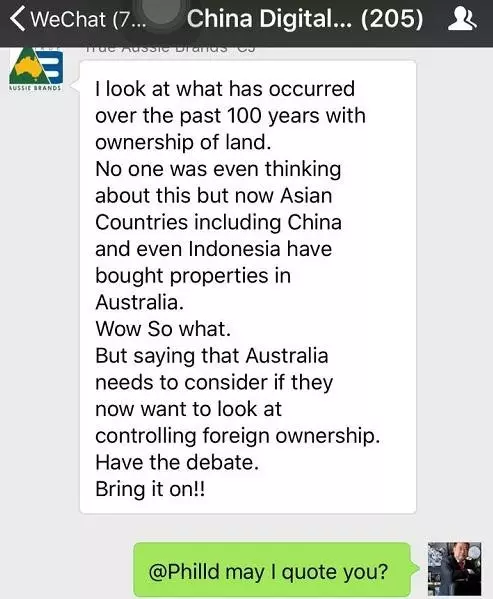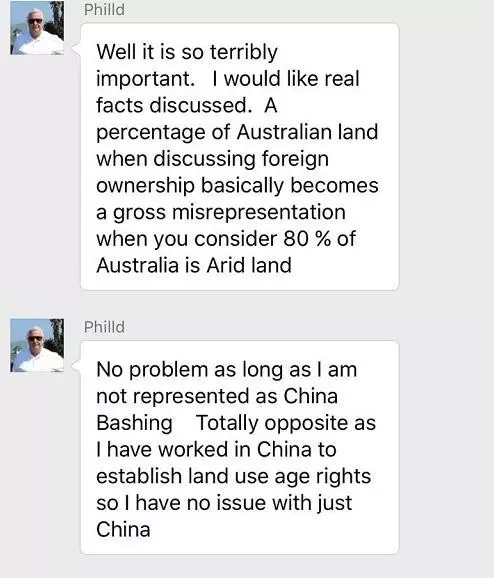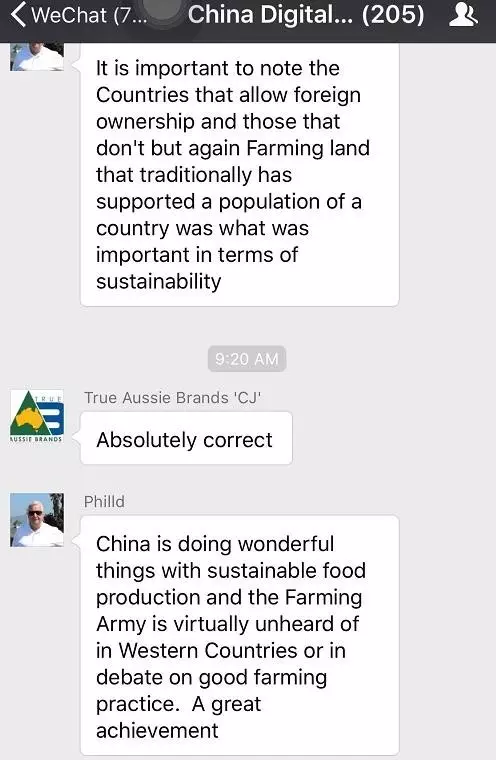 After the industry experts…what do YOU say?
Source: Business Insider Australia, news.com.au & ABC iMedia WeChat Account (ID: abcmedia)
Editor: Hilary