Author: Su-Lin Tan   Source: Australian Financial Review
If the proliferation of Mandarin speakers in Australia, along with restaurants offering food from China's most far-flung provinces, hint of a growing Chinese diaspora, the statistics merely confirm it. As at March 2017, Chinese-born migrants comprise the nation's third-highest resident population, after New Zealand and Britain, according to Australian Bureau of Statistics data. While there are also large numbers of other Asian migrants to Australia – from Malaysia, Singapore and Hong Kong – Immigration Department figures show the number from the Chinese mainland has more than tripled since 1997. And if they're not migrating here, they're visiting: Tourism Australia reports that 1.1 million Chinese visited in 2016, on a par with visitors from New Zealand.
Wealthier Chinese migrants have entered Australia via the Significant Investor Visa, which requires them to invest $5 million into complying investments for a minimum of four years before being eligible to apply for a permanent visa. The Chinese are attuned to social status, and accumulating luxury goods is a typical way to gain it. Not unlike other migrants, once here they seek mentors from within their communities – especially those they can trust, who have a good moral standing and speak good English. People who can guide them through their transition into life in Australia.
The Chinese also value peer-to-peer endorsement of goods and services, which has created a niche industry of influencers that brands are piggybacking off to market their products. Luxury car marque BMW has partnered with the founder of Sydney-based property concierge Black Diamondz, Monika Tu, to promote its products. A BMW spokeswoman says using an ambassador "allows for direct communication" with the growing Chinese audience in Australia, which accounts for up to 30 per cent of BMW's new vehicle sales. "Chinese customers value exclusive and tailored experiences; the success of our Chinese product launch events is just one example of this," the spokeswoman says. Other brands, such as Bulgari, Paspaley and even banks, have tried this approach although not always in as targeted a way as BMW.
Outside of consumer products, local Chinese identities also help in the conduct of business, says the Australia China Business Council chief executive, Helen Sawczak. "One of the big hurdles Chinese businesses face when they come to Australia is the lack of home-ground advantage," says Sawczak. "Often Chinese business people arrive with their Chinese bankers, Chinese lawyers and Chinese accountants in tow. There's nothing wrong with using your trusted long-standing advisers in foreign jurisdictions, but it fails to utilise the distinct home-ground advantage which local advisers can offer through their established networks."
The arrival of so many aspirational and cashed-up Chinese has created business opportunities for Australians keen to service them – from concierge to property acquisition, business introductions to social skills coaching. Meet five of the most influential in the game.
Richard Yuan (Chairman, Australia China Entrepreneurs Club)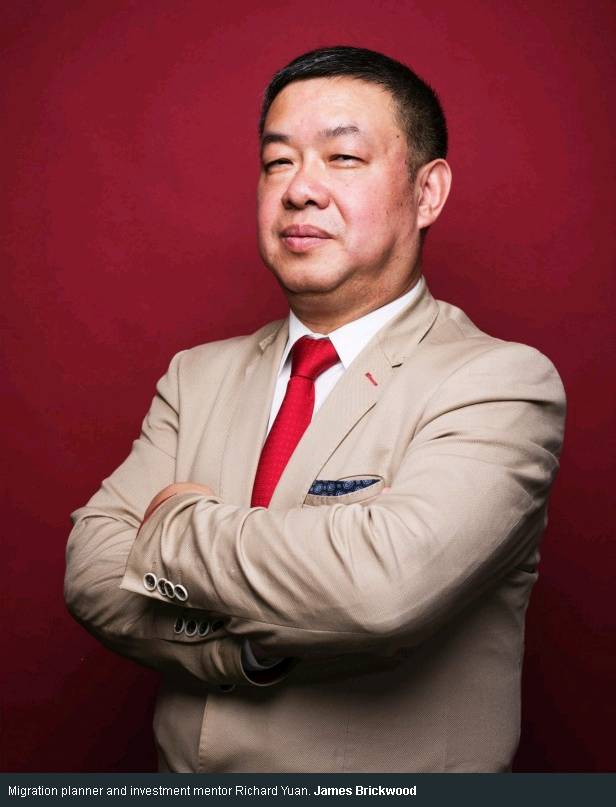 Each time the chairman of the Australia China Entrepreneurs Club, Richard Yuan, organises a wine-tasting event or a cruise on Sydney Harbour, he gets to play host to more than $1 billion in wealth. Yuan's 100-member club of Chinese Australians, each worth more than $10 million, pay an annual $2500 membership fee, although Yuan runs the club voluntarily.
"We are a concierge for wealthy Chinese deal guys, we set up the boardroom for them," Yuan says. The private banking divisions of Credit Suisse and Westpac have hosted some of the club's meetings. Last year, the owner of a mansion in Sydney's Cremorne hosted one of the club's meetings in the hope of securing a $25 million sale.
Yuan also hosts the Australia Qipao Business Week and the Australia China Business Week which Prime Minister Malcolm Turnbull, Foreign Affairs Minister Julie Bishop and former prime ministers Kevin Rudd and Tony Abbott have attended.
Yuan's club evolved from his migration and visa business, ABC World, which he started after his permanent resident visa application was rejected in 2000. He had come to Canberra as an exchange student in 1996, then became a translator, a Chinese sales presenter on the Global Television Network and a travel agent.
"I never thought I would be an agent until my visa got rejected," says Yuan. "In China, a migration agent is not looked up to; any agent is not a great social status." But it was through selling expensive air travel and processing visas that Yuan came into contact with affluent migrants. He is now a trusted mentor to the Chinese-Australian community for visa applications, migration planning, schools and, importantly, investment advice. "When you have to service people, they come to learn from you, you get respect," he says.
Bringing all his clients together in an investors' club led to the formation of ABC Investors Club in 2007, before a name change to ACEC in 2015. In China, good political connections are well regarded, but for Yuan it's more about making sure Australia and China understand each other. "Even with the change in business relationships between China and Australia, information has not been matched properly."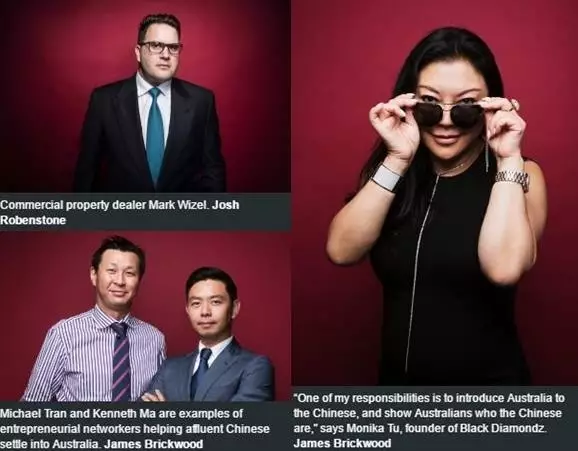 Monika Tu (Founder, Black Diamondz)
Chinese real estate agent and concierge Monika Tu's 2017 Chinese New Year function in Sydney was nothing short of spectacular. In its third year, the A-list party could easily have outshone a movie premiere: there was a red carpet lined with BMW cars, a stage featuring performances by two Chinese piano prodigies and an acrobatic display a la Cirque du Soleil. The dress theme was black and red, but Tu shone in gold. She is the face of Chinese Australian high society, to whom wealthy migrants look for their style code, fashion nuance – even how to eat Vegemite.
"People come to Australia because they have money but it is a new environment," Tu says. "So they look for a figurehead – what is the new trend, what are the right ways to behave? While I may sell houses, I'm Chinese-Australian, and one of my responsibilities is to introduce Australia to the Chinese, and show Australians who the Chinese are."
Tu, who sold $200 million in luxury real estate last year, ventured Down Under from her native Guizhou in south-western China as a student in 1988, when the Asian diaspora wasn't big in Australia. She stayed and built up an IT accessories business called Laser Corporation in Sydney's Surry Hills with her former husband – with whom she has an 18-year-old daughter – and grew it into a 40-staff global business. She sold it to her then husband just before 2009, and moved on to her next venture, inspired by her new husband, Jad Khattar, whose family is in construction.
"Real estate wasn't me. Jad was the one who loves real estate. And I knew how to sell," she says. "I wanted to find a niche market. When I first came to this country, what did I need, what service did I want?"
Black Diamondz was born more as a selling platform for goods and services than a real estate agency. And its target is the rising wealthy Chinese middle class. Selling houses to property-loving Chinese migrants was an obvious first step, and through her connections, Tu sold her first house, a $13.5 million mansion in Cremorne. She continues to sell mansions, finding both listings and buyers through word of mouth.
The concierge services, including advice on schools, parties, even which charities to donate to, are not commercial arrangements but add-ons to property sales. She has also branched into talent management and has placed bilingual Chinese-Australians into law firms and high-end retailers such as Louis Vuitton.
Luxury goods brands including BMW, Bulgari and Paspaley have made Tu an ambassador or partner. She also promotes the Sydney Conservatorium and the Sydney Dance Company. BMW offers her a car and each year "we decide if I have contributed enough", Tu says. She also speaks at BMW's Asian client events. "Selling is not a problem for me, but what else can the business offer? Give back information to new migrants," she says. "They look at what I do … like a life coach. Money is not everything. You need to know how to be a valuable member of the community."
Mark Wizel (National Director, CBRE)
Mark Wizel traces his relationship with Chinese customers back to when he was helping his Polish-immigrant father sell ugg boots  to Chinese tourists and migrants at Melbourne's Victoria Market.
"Having grown up at the Vic Market and dealing with Chinese buyers since the age of 13, I learnt from my dad having a real affinity with those Chinese families," Wizel says. "So every time I do a deal with a Chinese group I still call my dad, because I know he gets a great deal of adrenalin from it."
Wizel has been calling his father a lot in the past eight years. The 33-year-old has risen to become a national director at commercial property firm CBRE, mainly due to having struck about $11 billion worth of Melbourne commercial property deals for Asian buyers since 2009. Wizel's relationship with China and its investors runs deep, and he has surfed the boom of wealthy Chinese pouring money into Australian property. He has close connections with the families behind big property firms such as Greenland Group and Country Garden, and wealthy migrants such as Richard Gu, the son of a Chinese billionaire.
Teresa Ji, Wizel's long-term partner, comes from Nanjing in eastern China they visit her family five times a year. Ji's parents speak no English and while Wizel says his Mandarin is improving, he takes no lessons. He often tacks on business trips after these visits. That's something he started in 2009, when he and CBRE colleague Lewis Tong took more than 15 trips to China looking to drum up interest from investors. The pair would "work like rats up a drain pipe", visiting professional services and accounting firms, hoping to strike up relationships with the people who looked after the money and assets of rich Chinese families. "We'd fly China Southern, looking for the cheap flights at all hours of the night," he says.
A big breakthrough was the sale of Stonington Mansion in Melbourne's Malvern for $30 million to Chinese firm Everbright Group in 2010. Dozens of deals have followed and Wizel now heads a team of 62 agents at CBRE, 16 of whom are from Malaysia, Singapore, Hong Kong and mainland China. Often they are recruited straight from RMIT or Melbourne University, where Wizel has close ties with lecturers.
His relationship with Gu was forged after a meeting at a foot-massage parlour ("Many people don't know this, but that is where a lot of business takes place in Melbourne") after which the pair went for a walk around Chinatown.
"Probably a little bit too confidently, I said to Richard, 'If there's any property you like let me know and I'll get it for you.' When he said great and pointed to a building on the corner of Russell and Little Bourke streets I thought 'what have I ended up doing?' " Wizel approached the agents managing the tenants and a deal was eventually struck for $39.5 million, with Wizel taking no fee but making sure the agents kept their role with the new owner.
"I think a lot of Australians think doing business with the Chinese means doing a lot of nodding, humouring them and getting their money. But you need to understand their culture. It's simple, you have to put the work in. There's a lot of late nights, sitting at dinners and so on."
Kenneth Ma and Michael Tran (Co-founders, AzNConnecT)
The term awkward doesn't seem fitting to describe the 200 young Chinese in designer suits and accessories who have gathered over champagne and cocktails at hip Sydney bar, Mr Tipplys. But the hosts for this Sydney Asian Professionals Meetup know better. Kenneth Ma and Michael Tran founded AzNConnecT, a club for young Asians, in 2013. These gatherings are pitched squarely at young Chinese migrants, many the only children of wealthy parents, who might know their Hermès from their Dior, but struggle with how to carry themselves confidently in public.
"In the Chinese culture, parents usually send their kids to introverted activities like home tutorials or piano classes," Ma says. "In the Western world, you get sent to sports. We focus too much on academic excellence, we lack social skills."
AzNConnecT – the name is a play on Asian connect, the capital T "to make it stand out more", says Ma – offers newly arrived Chinese and other young Asians business and social coaching, seminars on taxation and superannuation laws, and soon, classes on healthy diet and lifestyle. Membership is free and has grown to 4000. Functions attract up to 300 attendees who pay up to $15 to cover costs such as venue hire, online marketing and modest stipends for the other seven staff members of the club.
Ma and Tran didn't start the club to make money. "I have personally been through that stage of not fitting in and that's where most of our members are at," Ma says. "We feel that there is a need for a community like this to point people in the right direction."
Ma, the more active of the founding pair, is a full-time engineer. Tran is an IT consultant. Ma's chef and banker parents arrived in 1995 from Zhongshan, in southern China's Guandong province, as skilled migrants, while Tran's parents came from Vietnam.
Ma started his Western education in high school and says that helped him assimilate better than others who arrived later in life. "For new migrants, there are big challenges in language and cultural fit," he says. "Those who don't fit in can't get a decent job and had to go back to China … When they were here, they were miserable but didn't show it."
AzNConnecT members have come to rely on the club as a social haunt, a place to network with other young Asian migrants, talk to the business mentors who speak at their gatherings and, mostly, to seek refuge from the demanding new ways of their adopted Western home. Hundreds turn up at the club's monthly get together, usually at a city bar. A random midweek dinner at an upmarket restaurant or a wine-tasting event will attract 30. Handpicked Wines is a club sponsor and a Sydney Maserati dealership is in talks with the club to advertise to members via Chinese social media site WeChat. Ma himself is a brand ambassador for Freedom Property Investors, recommending apartments to buy and sometimes offering deals on WeChat.
But AZNConnecT is not just about brands, Ma cautions. Its main purpose is to help young Chinese migrants chart their way into Australia's professional circles and coach them towards living as regular Aussies. Like their parents, many of them love real estate, fine wines and a lifestyle that's emblematic of the evolving Chinese middle class.
Source:
http://www.afr.com/brand/afr-magazine/the-gobetweens-who-help-chinese-settle-in-australia-20170418-gvmowd
---
Please see Mr. Richard Yuan's other comments on Australian Financial Review:
04/07/2016:
http://www.afr.com/real-estate/pauline-hanson-could-dent-asian-investments-in-australia-20160704-gpy4vq
24/01/2016:
http://www.afr.com/real-estate/chinas-wobbles-not-good-news-chinese-in-australia-say-20160121-gmaovj
13/01/2016:
http://www.afr.com/real-estate/how-the-chinese-market-chaos-will-affect-australian-real-estate-20160112-gm478j
14/11/2015:
http://www.afr.com/news/world/asia/the-networks-that-support-a-trade-in-the-hottest-new-thing-baby-formula-20151112-gkxnft